How Do I Prepare?

Well to say the least, we are living in very exciting times & there are soon going to be some great global changes made! The curtains have been drawn aside on the last scene of Earth's great drama, the act has begun & it cannot stop now! Like it or not, each one of our lives will be caught up in these great events. The countdown to Armageddon has begun.
The interpretation of these Bible prophecies which we have examined are not unique, but are shared by millions of Christians worldwide, both Catholic and Protestant. Many Muslims believe that passages of the Quran and other Islamic writings foretell a number of these same apocalyptic events.
One of the purposes of Endtime Bible prophecy is to let you know what's going to happen in the future so that you won't be taken by surprise by these great events, so you can rest assured that it is all a part of God's pre-ordained plan.
The best way to be prepared for the future is to receive Jesus as your Savior, as He has promised to be with His children to protect & provide for them and be their Guide through perilous times. Jesus will give you the strength and courage to bravely face these future troubles and help you survive until the End of this world, after which He will reward you beyond your wildest dreams in the Heavenly world to come!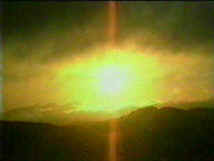 If you don't yet know Jesus then we'd like to invite you right now to receive his free gift of everlasting life by praying this simple prayer:
Dear Jesus, Please come into my heart. I believe that You died for me. Forgive me for my past mistakes & sins and give me Your free gift of everlasting life. Help me to love You and help me to share Your love & truth with others...Amen.
"There's only one life, it will soon be past! Only what's done for Christ will last! Jesus said that we "must work the works of Him that has sent us while it is day, for the night cometh when no man can work." Please work with us & help us in any way that you can to tell the world of God's love, and to help others through these difficult times, and show them what a wonderful world its going to be!